LIVABLE HOUSING DESIGN GUIDELINES
Silver, Gold and Platinum
The Livable Housing Design Guidelines provide useful information for consumers seeking to introduce livable design features into a new home or could be readily applied within an existing home during renovation or refurbishment. The Guidelines describe livable design elements. Each element provides guidance on what performance is expected to achieve LHA's Silver, Gold or Platinum level accreditation.
Three level of performance
Dwellings can qualify for three performance levels: Platinum, Gold and Silver. Performance levels are assigned upon being judged against 15 different criteria. A minumum of seven criteria must be satisfied to achieve the minimum level and be awarded a silver accreditation.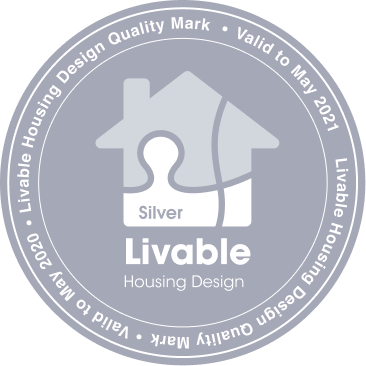 LHA Silver Level focuses on the key structural and spatial elements that are critical to ensure future flexibility and adaptability of the home.

LHA Silver level is based on the seven core livable housing design elements. Incorporating these features will avoid more costly home modifications if required at a later date.
LHA Gold Level features twelve core design elements building upon the core livable housing design elements featured in LHA Silver level plus enhanced requirements.


LHA Gold level provides for more generous dimensions for most of the core livable housing design elements and
LHA Gold level introduces additional elements in areas such as the kitchen and bedroom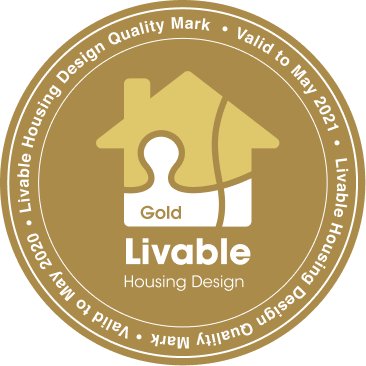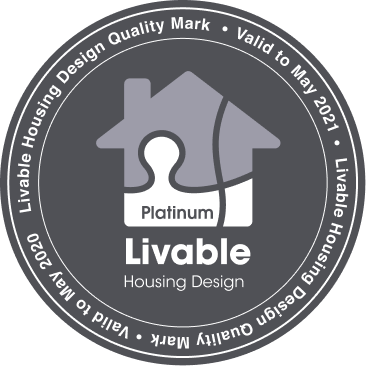 LHA Platinum level provides is the highest level of accessibility and livability. All 15 elements are featured in the platinum level.


LHA Platinum level describes design elements that would better accommodate ageing in place and people with higher mobility needs.
LHA Platinum level requires more generous dimensions for most of the core livable design elements and introduces additional elements for features such as the living room and flooring.